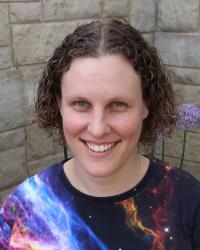 Contact Information
PAB B356B (Mostly remote)
Office Hours:
By appointment (On leave Nov 2022 - March 2023)
Biography
Ph.D., Astronomy, New Mexico State University, 2016
M.S., Astronomy, San Diego State University, 2010
B.S., Physics, Harvey Mudd College, 2008
I work with the Vera C. Rubin Observatory Legacy Survey of Space and Time (LSST) Data Management group to develop software for astronomical images. The Alert Production Pipeline does image processing, image differencing, and source association to find real astrophysical objects that have changed brightness or position in the sky and alert the community in near-real-time. My background is in stellar astronomy with a focus on binary and variable stars. Most recently, I spend a lot of time characterizing and mitigating impacts of satellite constellations on astronomy and the sky. Learn more and join me in this important work at cps.iau.org.