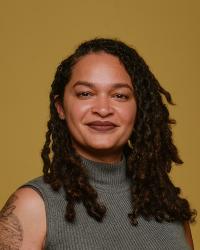 Contact Information
Accepting new graduate students
Biography
Ph.D., Physics & Astronomy, University of California - Irvine, 2022
M.Sc., Physics & Astronomy, California State University, 2017
B.Sc. Applied Mathematics, Towson University, 2014
Arianna Long studies how massive galaxies form, grow, and die in the high-redshift Universe. Her work combines observations with numerical modeling to tease out links and test evolutionary theories between dusty, star forming galaxies in the early cosmos and their fated quiescent descendant galaxies at later times. She uses observations across the electromagnetic spectrum from both ground and space-based observatories, with a specific emphasis on combining JWST and ALMA data. Her research focuses on the baryonic components of these galaxies (i.e. stars, gas, and dust) and how these components evolve over time to create the most massive galaxies in the cosmos.
Alongside her scientific roles, Prof Long is also an expert in mentorship. As Chief Programming Officer of VanguardSTEM, Prof Long develops and leads radical mentoring initiatives to support gender minorities of color in STEM. She also dabbles in science communication, with her written work awarded the 2022 National Academies of Science Excellence in Science Communication Award and featured in the 2022 Best American Science and Nature Writing print compilation.
Outside of these roles, she enjoys reading science fiction / fantasy novels, collecting and drinking herbal teas, dancing, and invading her dog's personal space.