Letter from the Chair
Dear Friends,
Back in August, when I was lamenting the quiet of the summer months on campus, it was hard to imagine the current whirlwind of activity.  We have new students, new researchers, new visitors, and new projects, and every day seems to bring another interesting talk or scientific result to discuss.  When I first started here, our talk schedule centered on the weekly Department colloquium, Journal Club presentations by our graduate students, and an occasional visitor talk at lunch time.  These days, however, we also have weekly Astrobiology colloquia, weekly lunch talks from our many visitors, talks from visitors and members of the Data Intensive Research in Astrophysics and Cosmology (DIRAC) center, and weekly discussions of new papers on astro-ph over coffee ("CAphEINE").  For as long as I've been an astronomer, the most exciting time seems to be RIGHT NOW, and the current department schedule certainly confirms that impression.
For me, one of the highlights of this past quarter was the Department's "Zwicky Transient Facility (ZTF) Hack Day", organized by Prof. Eric Bellm, DIRAC Associate Director Dr. Daniela Huppenkothen, and DIRAC postdoctoral researcher Zach Golkhou.  ZTF is an exciting time-domain survey of the northern sky that UW recently joined as one of a small number of partners.  This project is allowing UW scientists to make exciting scientific discovers while also developing critical expertise for the upcoming Large Synoptic Survey Telescope (LSST).  The Department's ZTF Hack Day was a supportive, collaborative, and extremely efficient way to jump start our ZTF-based research, by helping us rapidly climb the steep learning curve that any new project requires.  We celebrated the end of the day with our first monthly department social, hosted by Prof. Andy Connolly.
Looking forward, one of the biggest events on the calendar is the coming of the American Astronomical Society's national winter meeting to Seattle.  Many of our wonderful collaborators and former students will be coming to town, and many of our faculty, postdocs, and students (grad and undergrad!) will be giving talks at the meeting itself.  We hope to catch up with you at the meeting or on campus before or after.  In particular, for those of you who have helped to support the Department's Jacobsen, Hodge, or Wallerstein funds, please reach out so that I can thank you in person.
Best wishes for a relaxing and satisfying holiday season,

Julianne Dalcanton
Professor and Chair
Astronomy Department
University of Washington
Kudos of the Quarter
Aislynn Wallach is an undergraduate senior majoring in Astronomy and Physics. All students in the Astronomy Department know that a good life includes a lot of giving. Accordingly, some of the undergraduate majors in the Astronomy Department regularly do fantastic volunteer outreach to the general public. Here we'd like to recognize Aislynn, who often volunteers their time to meet with the public at the Theodor Jacobsen Observatory ("TJO").
"Note that our wonderful volunteer donates their services in the evenings when they might otherwise be studying, socializing, or doing their laundry. The many Open House activities would be impossible without the undergraduate volunteers like Aislynn." – Dr. Bruce Balick
Aislynn is currently working on two projects: the first with Dr. Jamie Lomax — former UW post-doc, now a professor at the U.S. Naval Academy in Annapolis — using spectropolarimetry to analyze the geometry of the binary star system V367 Cyg. So far they have preliminary polarimetric light curves of the system, and are working on finalizing them and the code to write them before their poster presentation on the project at AAS this January. Closer to home, they also work with graduate student Trevor Dorn-Wallenstein attempting to find Wolf-Rayet stars in the h+chi Persei star cluster.
In their free time, Aislynn enjoys baking, especially when they get to bring their experiments in to feed their friends. They spend time with the UW Q Center community. Aislynn is also an officer in the League of Astronomers. The LOA plays a major role in undergraduate life in the Astronomy department. We are excited and proud to share Aislynn's work with you.
Graduate Research: Focus on Margaret Lazzarini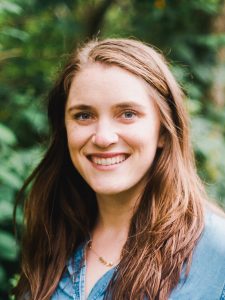 This quarter's spotlight is on graduate student Margaret Lazzarini. Her research focuses on studying populations of X-ray binaries in local galaxies. X-ray binaries are systems in which a compact object primary (black hole or neutron star) accretes matter from a stellar companion. She is particularly interested in how we can use the population demographics — the fraction of systems with a black hole/neutron star primaries and different types of companion stars — to better understand the formation and evolution of these systems.
"Margaret has been pushing to the forefront of multiwavelength X-ray/optical studies of nearby galaxies. She just completed her second internship at Goddard, published her first first author paper as well as a second author paper over the past few months. " – Dr. Benjamin Williams
Margaret uses X-rays to study the compact object. Observations of high energy X-ray emission with NuSTAR can distinguish between black holes and neutron stars. Also observations at optical wavelengths allows for the companion star to be identified and its spectral type to be determined. Her recent work has included a multi-wavelength study of the high mass X-ray binary population in Andromeda using data from the NuSTAR X-ray telescope, the Chandra X-ray Observatory, and the Hubble Space Telescope.
Outside of research, Margaret is passionate about teaching and improving equity and inclusion within astronomy. This fall she is the instructor of the Pre-Majors in the Astronomy Program (Pre-MAP) seminar. Margaret has co-developed and taught a two week course in astronomy called Protostars for middle school girls. This is taught through UW's educational outreach office in the summer of 2016 and 2018. Margaret has also spent many Friday mornings giving planetarium shows to local school groups as both a presenter and the planetarium's coordinator. Prior to coming to UW she taught high school physics and astronomy for two years in Los Angeles while obtaining a Master's Degree in education. She recently won the Graduate Student award for teaching.
"Margaret has consistently been one of the strongest TAs every quarter that she has taught. Her teaching experience prior to graduate school has paid large dividends for the students in the Astronomy 101, 102, and 150 classes. Margaret's commitment to teaching is demonstrated in her preparation and execution in the classroom. Even in topics far outside her field of research, Margaret's dedication to teaching has lead to an outstanding experience for the undergraduate students." – Professor Toby Smith
Somehow Margaret has found time to experience life outside of the department. She spent two years of graduate school playing on the UW club water polo team, and these days she spends most of her free time hanging out with her adorable dog, Melba. Congratulations to Margaret and all of her accomplishments in the recent years.
Upcoming Events
The League of Astronomers Club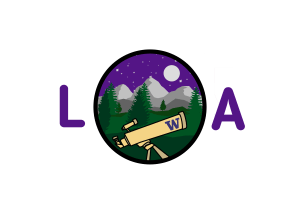 The League of Astronomers is a club at the University of Washington which seeks to expose as many people as possible to the joy of astronomy. Our fall meeting time is Tuesdays at 6pm in PAB B360, so join us for some fun trivia and tea time seminars! Please contact our group at leagueoa@uw.edu if you have any questions about becoming a member, or if you have any general inquiries about our group.
Colloquium Tea Time Seminar
We are planning on holding Tea Time Seminars with the weekly colloquium speaker. This will include a brief summary by the speaker on who they are, what they're researching followed by a Q&A session with our members. For the rest of this quarter, we will be holding it at 11:00am on Thursdays in the Astrolab (PAB B360). There will be tea and cookies!
A list of the quarterly colloquium speakers can be found under the News & Events page on the Astronomy website.
Movie Review: First Man
The League of Astronomers was invited to a pre-screening of the new movie First Man with Ryan Gosling! It received mixed reviews from our members, giving us a final Dehydrated Space Tomatoes rating of 60%. Overall, we liked the emotional focus of the movie, but thought it was too slow-paced at times. From the trailer, one would assume the movie would be a fast-paced action movie about the journey to the moon, but in reality it was about the emotional journey of one man. It also glossed over societal issues of the time that it could have delved into more deeply. However, its brutally honest representation of the human toll of the space race won over most of our members. While it wasn't a bad movie, it's certainly no Hidden Figures.
"It made me want to be an astronaut. The Moon landscapes were so beautiful and serene. It felt like I was really there, stepping in the regolith, soaking in the barren grandeur. And then a thought crossed my mind: Oh my god, Hollywood actually faked the Moon landing!" –Postdoc Michael Wong
"It was amazing to really see the struggles NASA had to go through. I did not realize there were so many political setbacks and deaths. It was inspiring to see what they had to overcome to get us to the moon." – Undergraduate Courtney Klein
American Astronomical Society Meeting in Seattle!
The League of Astronomers has secured travel funds to send 5 undergraduate students to the 233rd AAS conference in January 2019. The AAS meeting is the most highly attended meeting in the Astronomical society every year in the US. Additionally, we have received an invitation to showcase the mobile planetarium at AAS from UW alum Philip Rosenfield, the project director for World Wide Telescope (WWT). Our goal is to teach AAS members how the mobile planetarium functions, showcase WWT software, and announce our future plans towards targeted outreach. We are planning to send 5 volunteers to carry out this goal, who will also be able to attend the meeting at no additional cost.